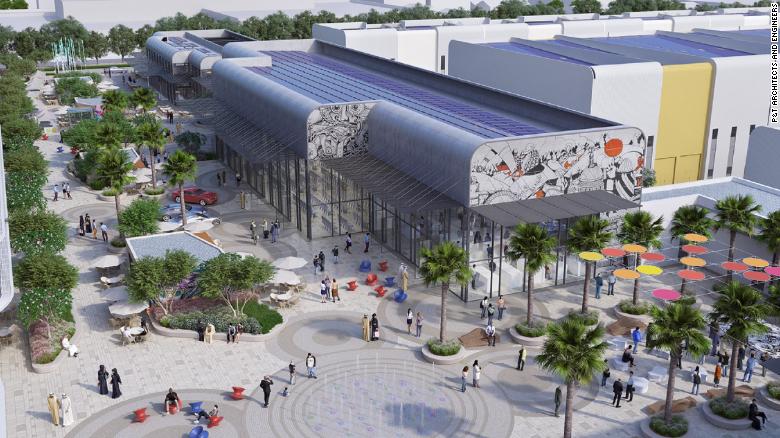 (CNN)Many of us have been forced to take our shopping habits online during lockdown, and while stores have been shuttered, many internet traders are flourishing.
The government of Dubai is betting the trend continues as it prepares to open a new free trade zone for e-commerce named "Dubai Commercity," which will provide a base for online retailers.
The 3.2 billion AED ($870 million) development, adjacent to Dubai International Airport, is billed as the first of its kind in the region. The site is a joint venture between two state-owned enterprises — the Dubai Airport Freezone Authority (DAFZA) and property firm Wasl — and the developers say the coronavirus pandemic has spurred rather than stalled their progress.
"The need for world class e-commerce services has never been greater," says Mohammed al Zarooni, director general of DAFZA. "Having previously identified the region's growing e-commerce market and given the traction witnessed by clients (going) online due to the pandemic, we are on track for the scheduled opening by the end of 2020."
The 3.2 billion AED ($870 million) venture is expected to begin a phased opening in November.
One-stop shop
At 2.1 million square feet, the new "city" is approximately the size of Grand Central Station in New York, and is split into three clusters: business, logistics, and social.
The business cluster will accommodate 12 office buildings that promise modern facilities and sustainable design for companies of varying size.
Agreements have been struck with companies to occupy the new premises but they cannot yet be named, the developers say. The most popular products among retailersare clothing, jewelry, and electronics.
"Commercity" tenants will pay no income or corporation tax, and will benefit from a "one-stop shop" of support services including for immigration, healthcare, administration, and banking.
Clients will also be able to make use of the logistics cluster, consisting of heavily automated AI-powered warehouses, and a social cluster of restaurants and cafes.
The first buildings are expected to be opened and occupied in November, with staged openings until the project is completed in 2023.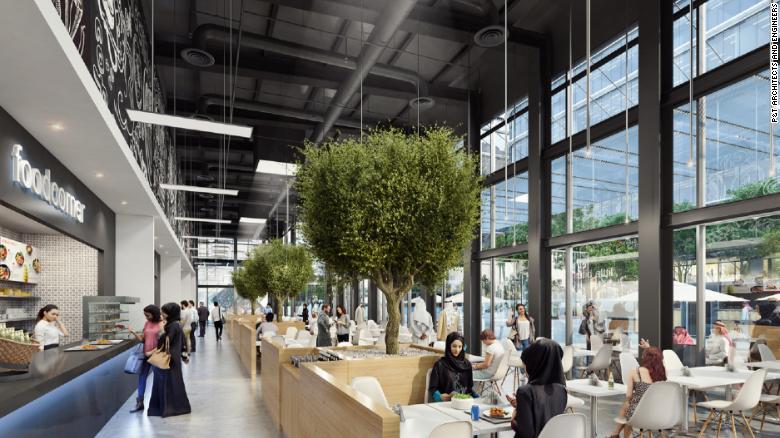 The site plan includes a social cluster with restaurants and cafes.
Growth potential
The developers of "Commercity" are confident that investment in e-commerce will pay off as the market could be set for explosive growth.
E-commerce in the Middle East is projected to be worth $48.6 billion in 2022, up from $26.9 billion in 2018, with the UAE and Saudi Arabia the main drivers of growth, according to a report from industry and market analysis company BMI research.
According to DAFZA's own research, e-commerce in the MENASA region (Middle East, North Africa, Southeast Asia) was growing at an annual rate of 24.6% to 2020.
Bullish predictions are largely justified, says Mehrnoush Shafiei, an analyst at research group Euromonitor. But the sector is growing from a low base.
"A major beauty retailer in the UAE with probably the best developed online shopping portal says that only 1% of sales come from online, the rest is from stores," says Shafiei.
The country is "primed for digitization," the analyst says. "The technology is there, the state support is there, and the people are ready for it.
"Progress has been limited by a lack of space for businesses to store their stock, she adds, as well as slowdeliveries. If the new free zone can address these issues, the rewards could be significant.
"If 'Commercity' can help facilitate transactions to increase speed and efficiency, then for sure I would expect skyrocket growth," says Shafiei.